02.07.2014
Valentine's Day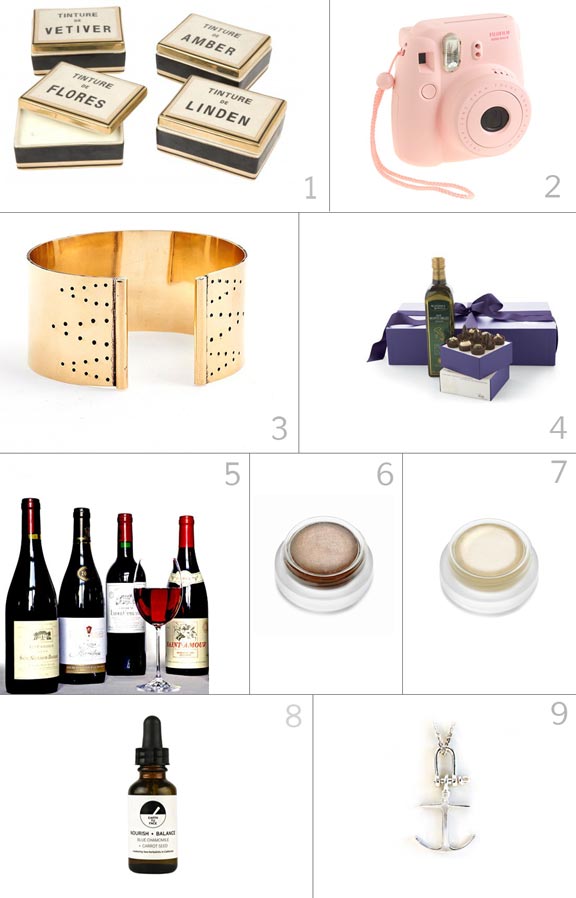 Whenever I'm looking for a gift for a family member of friends, I try my best to shop locally, to find something unique, and to pick something that is meaningful for the recipient. When in doubt, I always buy something I would love to recieve myself. I've rounded up a few Valentine's Day treats that I think any woman would love...and almost all of my picks are created by small businesses...and many run by creative women. Just one more reason to feel good about your purchase!
1. I have one of these candles from Jayson Home and Garden in my kitchen. It's both beautiful and sweet smelling!
2. This mini instant camera may not be a local find, but delivers immediate satasfaction, is easy to carry, and provides endless fun for kids and parents.
3. 2. A dramatic bracelet by Winifred Grace, hand made in Chicago.
4. For the gourmand, any of Vosges gift boxes would be perfect, but I love this one which pairs chocolate with a bottle of Sicilian olive oil.
5. For the wine lover, Diane Carpenter of YourWineStylist can help you pick the perfect bottle (or case!) and source hard to find vintages.
6. + 7. We can all use a little bit of brigntening and bronzing these days, and the RMS Beauty Buriti Bronzer and Living Luminizer are my favorites (and they are all natural). RMS is also carried at Space519 in Chicago.
8. Earth Tu Face serum, which is 100% natural, has been on my wish list to heal my dry, wind blown skin.
9. A nautical necklace based on a vintage necklace Barri Leiner and Marie Moss of M & B Vintage found at auction. M & B carry everything from modern monogrammed pieces to one-of-a-kind vintage charms and jewelry (Chicago based, and carried at Space519 as well). I'm also loving their sweet lucky charm.
** I'm slightly biased, but I also think perfume is a very romantic gift...and of course I'm partial to these! If you are ordering flowers, try Thresholds Urban Meadows, the only non-profit florist in Chicago (they ship locally and nationally).
CATEGORIES: Kids and family, Beautiful things